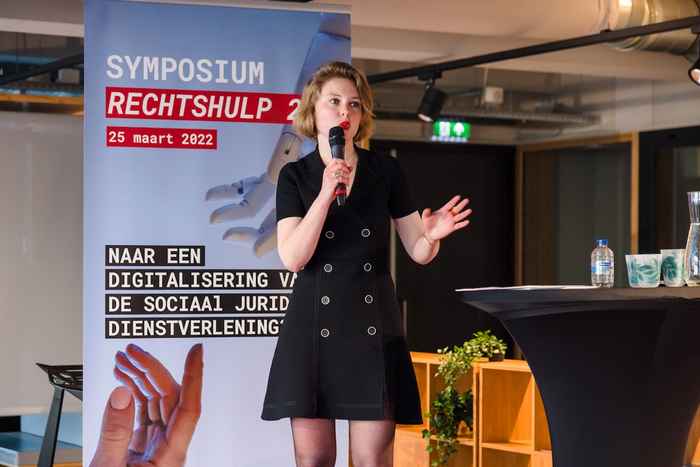 Our 3 programs
Education

Academic or skill-building programmes delivered within the Law Faculty for students, researchers and to external professionals.

Our award winning Justice Entrepreneurship masters elective (also available in short-form to PPLE students) is a yearly course which trains students to apply Legal Design methodologies towards the development of real justice solutions.
Professional Education in the form of masterclasses; most recently 'De Responsieve Overheidsjurist'; developed and delivered with research group ACLPA.
Clinical education programmes in topics like Climate Justice, Human Rights and Law & Policy as part of the Amsterdam Law Practice.
Bespoke courses, trainings, tools and knowledge sharing platforms for rechtswinkel students to support professional development, judicial problem solving and improved service delivery; offered at a national level following our establishment of the Nederlandse Vereniging van Rechtswinkels (Dutch Association of Legal Aid Clinics).

Research

Proprietary knowledge building through our own research, or by supporting faculty academics in their own research activities.

In-house research on informal, first and second-line legal help including rechtswinkels and legal aid lawyers covering best practices, interdiscip;inary approaches and career trajectories.
Development and delivery of SkillShare Law; a skill-building programme for researchers which combines intervision, exercises and practical advice.
Personal grant advisory on research design and knowledge utilisation to all Law Faculty researchers.
Co-design and hosting of events including research symposia.

Enterpreneurship

Increasing student engagement with legal innovation and developing services to support the wider entrepreneurial community.

Offering for 8 justice startups a year of free incubation and trainings; additionally offering investment of €2.500 to 4 through our Startup Fund.
A series of half day ideation workshops to inspire students at other educational institutions to develop concepts for defined justice problems.
Development of a new 'rechtswinkel' for entrepreneurs; the Startup & Stichting rechtswinkel; delivered in combination with a yearly floating legal advice clinic: The Incuboater.