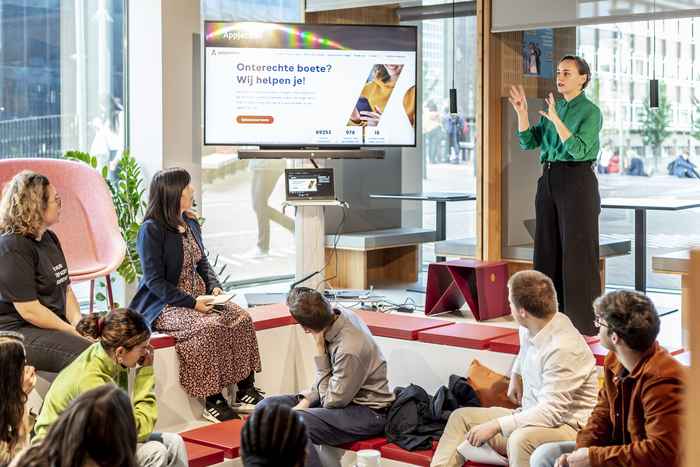 Events & workshops
We see that both social partners and students are aware of problems that exist in society, but often do not know where to start. To encourage this and steer them in the right direction, we organise meetings from our incubator.
Our working method
The Human Centered Design method is the common thread here, because we believe that truly valuable solutions can be developed using this human-centred method. For instance, we start with the 'Empathize' phase, in which we encourage students (from universities throughout the Netherlands) to put themselves in the shoes of the end users by talking to them. On this basis, actual problems can be defined and possible solutions can be brainstormed.
Ready to take the next step?
Are you a student at a Dutch university, and have you already developed a start-up idea, but do you still lack the skills or the network to market it? Then apply for our Incubator programme! Here you will receive intensive, free coaching for one year, with a possible flow to our start-up financing.
Our (societal) partners
Currently, we are already actively collaborating with Gemeente Amsterdam, StartupAmsterdam, Raad voor de Rechtsbijstand, ProBono Connect and other universities, among others.
Are you working at an organisation looking to solve a legal problem, and would you like to join us? Then send an email to amsterdamlawhub@uva.nl so we can help you facilitate a workshop with our students.
Check out our calendar for upcoming events!