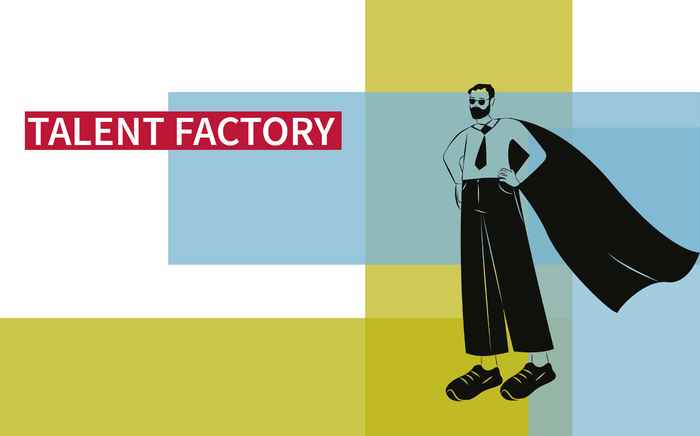 Talent factory is a proposed booster programme tailored specifically to researchers of the Amsterdam Law School. It aims to develop the skills necessary to make strategic career choices supported by training on pitching, grant writing, networking and research methodologies. Talent Factory is designed to serve not only as a learning platform but also as platform for sharing experiences and discussing career challenges with peers and successful senior researchers from ALS and beyond.
In 2023, the programme will be offered in the following ways:
PhDs: compulsory for second-years, but also open to third- and fourth-year researchers (March 2023)
UDs (November/December 2023)
Programme for PhDs
This programme is compulsory for PhDs and will take place in March 2023. It consists of two modules: PhDs and UD's. Read more about the content and registration options below.
1. CV & Career
In this module, PhDs got help to professionalise their CV. In addition, a panel of seniors from the field were invited to speak to them directly. These panelists consisted of: Marten Zwanenburg (Political Advisory), Nathalie Dijkman (Intra/Entrepreneur), Joao Quintas (Research) and Jonathan soherno (Law/judiciary).
2. Pitching
This pitching module was all about coming up with themes and strategies to work out a good pitch. It also provided tools to tailor this pitch to different target groups (journalists, academics).
Programme for UDs
The programme for UDs will take place in November and December 2023. The following four modules will be covered:
1. CV & Career Building
Focusing on different researcher profiles or types, key things to consider when identifying your own career path, how to develop consistency without closing doors, skills tips and tools to support work processes for researchers.
2. Pitching & Networking
How to identify network gaps and strengthen them, communicating with the press, identifying your research profile theme, practical strategies for building strong pitches.
3. Grant writing
Common grant writing pitfalls for legal researchers, an intro to consortium grants, knowledge utilization explained, how to build a strong story through the hourglass method.
4. Methods & research design
Rethinking your approach strategically, how to develop a good research question, critically reflecting on the gap between questions and methods, an intro to key methods and a critical reflection on normative frameworks.
Exact start dates and registration options to follow!
Contact
For any questions about Talent Factory, please reach out to Frances Singleton (f.c.singleton@uva.nl).